AXMEDIS is the ultimate solution for cross-media content business. The novel AXMEDIS approach provides tools for an efficient and valuable content management: from production, elaboration, management and protection, to a real multi-channel distribution.

AXMEDIS Framework supports and automatizes the digital content management along the whole value chain. Offering you an enlarged set of tools for content capable to satisfy even the most complex requests of your business. With AXMEDIS multi-channel distribution you can provide the same content for streaming or downloading for different platforms and channels: Satellite, PC Windows or Mac, PDA, Mobile, Set-Top-Box, IP-TV, and many others.
Inject AXMEDIS Technology in your factory with AXMEDIS !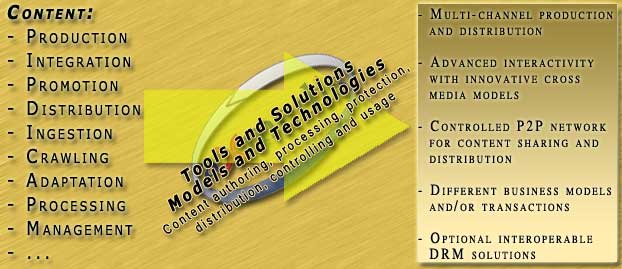 AXMEDIS is a
scalable
and
customisable
solution. It adapts to your business and is able to grow according to your needs. Explore the showcases (
...
) of already implemented customisations.
AXMEDIS tools can be used for:
Multi-channel production and distribution for broadcasting, IP/Internet, WEB sites, P2P, mobile, PDA, IPTV, interactive TV and channels. By using the AXMEDIS Content Processing solution (AXCP) it is now possible to manage automatically: content, metadata and licensing information with the operations of ingestion, crawling, database management, indexing, processing, adaptation, transcoding, encoding, decoding, descriptor extractor, recognition, filtering, production, archiving, storing, packaging, preview, extracting fingerprint, licensing, AXMEDIS DRM , profiling, protection, encryption, accounting, enrichment, network management, etc.
Controlled P2P network for content sharing and distribution, involving customers and business: Content owners and distributors can to exploit the capabilities of P2P protocols to create efficient, controllable, legal and secure P2P networks for content distribution and sharing. By using the AXMEDIS P2P and AXCP solution a distributor may publish content in the P2P network. The content may freely navigate among peers with the supervision and control of the AXMEDIS protection and monitoring tools.
Exploitation of different business models and/or transactions on the same distribution channels: Automatic content production, protection and distribution with the AXMEDIS DRM solutions will help reduce the cost for content post-production and management. The AXMEDIS DRM solutions allow to automatically product, protect and distribute content with DRM allowing the reduction of costs for content post-production and management. Content can distributed according to different business models (pay per play, monthly rate, etc.), different rights (play, print, etc.), with different conditions (times of play, duration, etc.). (…)
Advanced interactivity with cross media models: AXMEDIS Editor and Players support many types of cross-media interactive contents with and without DRM support, from simple multimedia files to complex collections for a large range of applications, from business to business to personal and/or global scale production, protection and distribution, it is possible to create autonomous intelligent dynamic content to be send in the hand of you users (…)

The AXMEDIS Multichannel DRM, an open and interoperable solution for the protection and rights management for a wide range of content, from single files to complex cross media and multimedia, distributed on different channels towards different type of players and devices such as DVB-T, DVB-S, PC, Internet, P2P, PDA, Mobiles, STB. (
…
)